Take the guesswork out of saving with our CDs. You'll earn a guaranteed rate over a set term.
Key Features
Fixed Interest Rates
Wide Range of Terms
No Setup or Maintenance Fees
Details
Earn a guaranteed, fixed interest rate for the length of your term
Wide range of terms available (from 7 days to 5 years)
Provides more guaranty than other investments
No setup or maintenance fees
Early withdrawals subject to penalty1
FDIC coverage of at least $250,000
Minimum deposit to open varies based on term
To Get Started
Click the Apply Now button above or below. For faster service, speak to a representative at 229.246.6200 (GEORGIA) or 904-875-6177 (FLORIDA)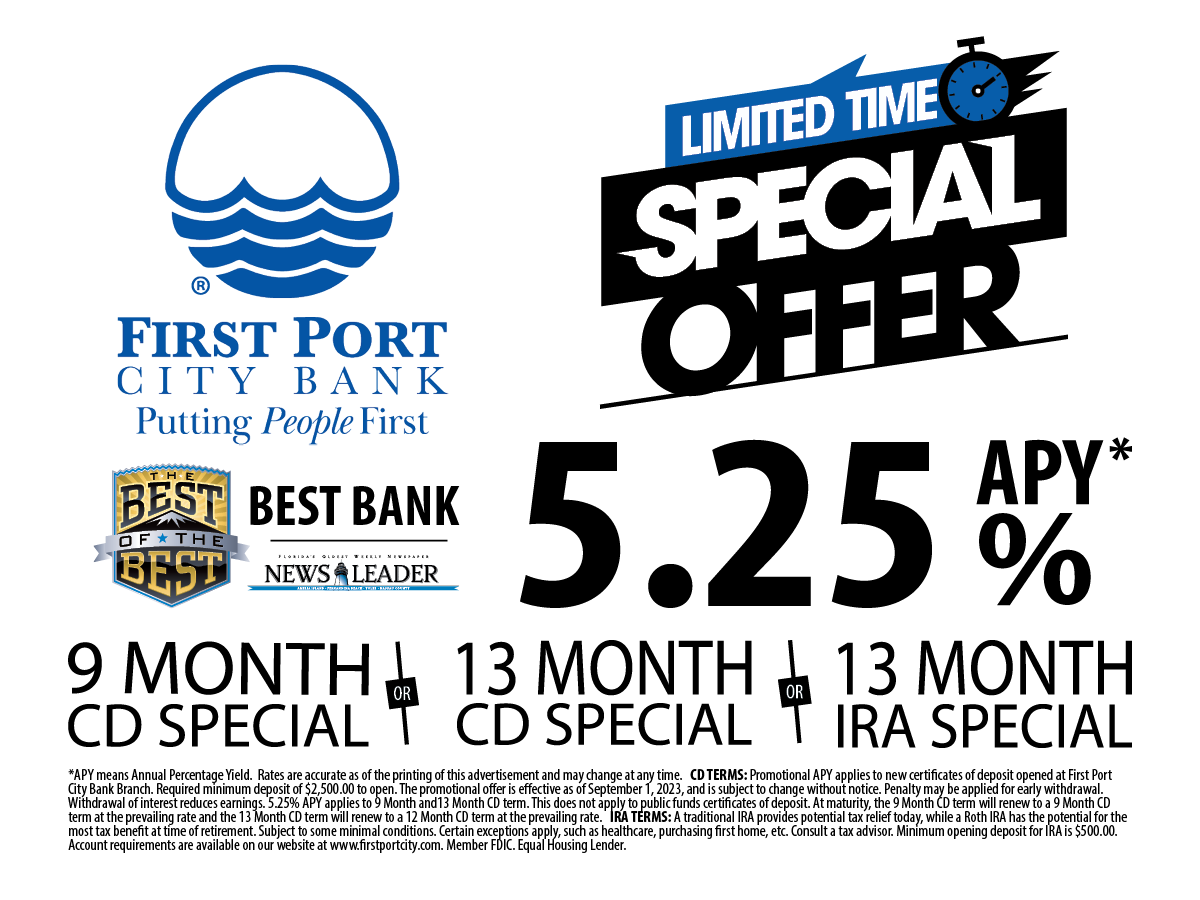 *APY means Annual Percentage Yield. Rates are accurate as of the printing of this advertisement and may change at any time. CD TERMS: Promotional APY applies to new certificates of deposit opened at First Port City Bank Branch. Required minimum deposit of $2,500.00 to open. The promotional offer is effective as of September 1, 2023, and is subject to change without notice. Penalty may be applied for early withdrawal. Withdrawal of interest reduces earnings. 5.25% APY applies to 9 Month and13 Month CD term. This does not apply to public funds certificates of deposit. At maturity, the 9 Month CD term will renew to a 9 Month CD term at the prevailing rate and the 13 Month CD term will renew to a 13 Month CD term at the prevailing rate. IRA TERMS: A traditional IRA provides potential tax relief today, while a Roth IRA has the potential for the most tax benefit at time of retirement. Subject to some minimal conditions. Certain exceptions apply, such as healthcare, purchasing first home, etc. Consult a tax advisor. Minimum opening deposit for IRA is $500.00. Account requirements are available on our website at www.firstportcity.com. Member FDIC. Equal Housing Lender.
1Early withdrawal will result in the forfeiture of interest based on your term.